Courses and Workshops for Floristry, Flower Arranging, Professional and Traditional Crafts
Flower Arranging At Home #3 - Arrangements in ´Real-Time´>Next-Video>>
We thought to do this as we all adjust our lives so that we eventually defeat Covid-19.
A new series of "How To .." flower arranging videos to entertain, to inspire, to educate and remind ourselves of the beauty of this art.
These designs were created using available garden materials and everything we flower arrangers love to hoard, or using everyday objects in different, flower arranging, ways.
These flower arranging videos are for everyone who likes the idea of making floral designs at home, learning more about flower arranging or just being entertained.
More flower arranging videos are on their way
Flower Arranging at Home - Design #3
How to.. Create a Posy Ring Table Arrangement with one block of floral foam
How to.. Create a Posy Ring Table Arrangement with one block of floral foam by Gill McGregor
Contemporary Flower Arranging - A video showing you How to .. Create a Posy Ring Table Arrangement with one block of floral foam.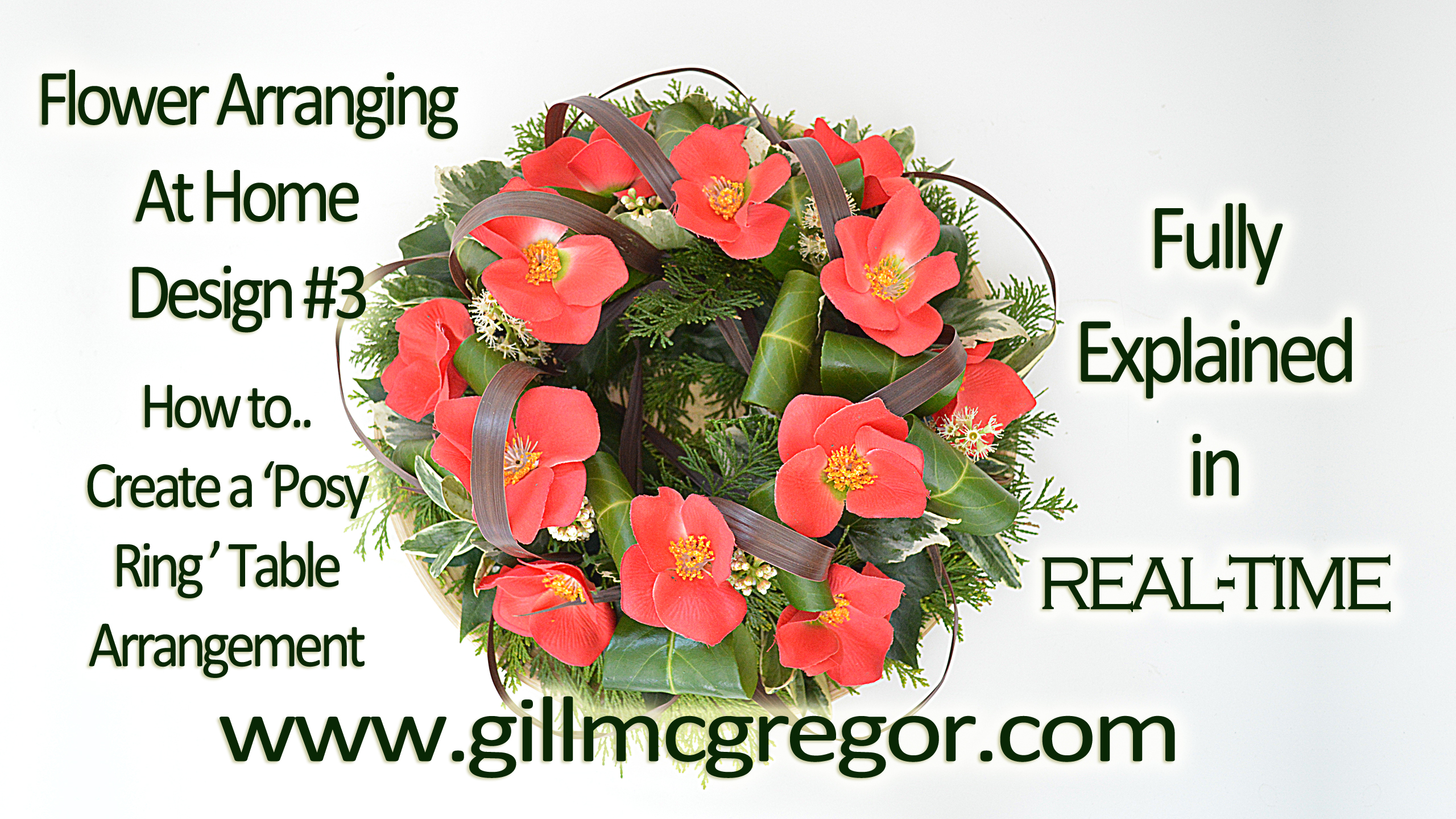 Designed and Created by:
Gill McGregor
Gill explains by this step by step "How to" video the most effective way of arranging a posy ring using as fewer materials as possible, so we can enjoy our plants both indoors and in our gardens.
Keep the central circle of foam for design #4 as you will find that it too can be used to make a very contemporary coffee table design.
We find this posy ring is a favourite with all and can be adapted greatly with additional accessories that you happen to have. Enjoy, keep safe and well.
We hope you enjoy watching these videos as much as Gill did making them; to help both entertain you during these times and to give you some ideas that you could arrange yourself.
-By using our book pages you are agreeing to our placing a Necessary cookie so that you can see our prices in your local currency
When you click 'Add to Cart' / 'View Cart' you are agreeing to PayPal placing their cookies so they can manage your purchaseTell me more about cookies
Flower Arranging Credentials
Gill is a fully qualified teacher of Floral Design and a National NAFAS Teacher.
Gill has performed over a 1000 Floral Art demonstrations to 10s of 1000s of audiences both in the UK and around the world.
As an author Gill has written and had published 7 Flower arranging books each with a different focus to develop Flower arranging skills for beginners to advanced floral art designers.
A Flower arranger since the age of 11, Gill was on the adult flower arrangers, competitor's circuit at the age of 14; winning a host of different competitions and awards.
At 16, Gill performed her very first Floral Art demonstration and so loved the stage Gill became a qualified Flower Arranging demonstrator to enable Gill to entertain and teach how to create Floral designs before your eyes during her performances.
At the age of 22 Gill became a fully qualified Flower Arranging teacher and taught at FE colleges, symposiums and training events.
Gill teaches all aspects of floral design from Traditional Flower Arranging to Contemporary Floral Art and craft classes and workshops.
For many years Gill was a Floral Art scheme adviser for City and Guilds and wrote the current suite of C&G Levels 1-3 Flower Arranging qualifications.
Flower Arranging has always been Gill's passion and continually strives to design and develop new Floral Art Techniques and Designs for the Floral Art World.
Floristry Credentials
Gill McGregor NDSF is a fully qualified florist holding the Society of Floristry NDSF Diploma, equivalent to the current Level 5 C&G Floristry qualification.
Gill is also a fully qualified Further Education (FE) teacher and the holder of the Certificate of Education.
Gill's expertise for developing courses has been achieved through her vast experiences from; management in thriving retail floristry businesses in London for 12 years, owning a successful wedding and event decoration company, to heading up the largest Floristry and Flower Arranging Department in a horticultural college whilst successfully achieving a grade One from OFSTEDÂ  for 3 consecutive inspections.
Gill's passion and enthusiasm for teaching and curriculum development resulted in Gill becoming heavily involved in the promotion of the Florist industry and participated in the writing of City and Guilds Floristry qualifications.
Gill has demonstrated Floristry skills and techniques at eminent Floristry shows in the UK, Essen, Paris and Kansas.
Gill received the prestigious City and Guilds silver medal (highest accolade) for her achievement in the Level 4 Floristry Business Procedures qualification in the UK.
Over the years Gill has taught 100s of Floristry students with many running successful businesses in London and the Home Counties.
Courses run in idyllic local settings which include character hotels and approved facilities in the Hertfordshire - London ⁄ Middlesex, Cheshunt, Goffs Oak and Waltham Abbey; dependent on anticipated course delegate numbers. Refreshments are provided.
Copyright Gill McGregor © 2013 - 2021